The following video shows how a "Bus-only" street would work. Taking place possibly in Italy *(Edited as suggested by commenter: Newcastle-on-Tyne?)*, it utilizes mechanized poles that protrude from the roadbed. As buses approach the poles, a sensor sends a signal to lower the poles. After the bus has passed, the poles reset to their risen position. Of course, as you will see, some drivers think they maybe quick enough to beat the poles, or do they...?
This idea can be utilized in
NYC's Bus Rapid Transit (BRT)
or as the MTA calls it, "
Select Bus Service
" lanes, once in an experimental mode but now expanding its reach with
Phase II
. Since funding for camera-enforced lanes were
defeated by a certain Gantt
(David Gantt) last year, the NYC Department of Transportation and the MTA have been having trouble
stopping people from driving into the lanes or leaving vehicles in it
. In fact, I was at 34th St & 7th Ave recently, and spotted someone leaving a whole bunch of crates in front of an H&M in a special 34th St bus lane reserved for buses. (Picture follows-bus lane is near curb, painted red)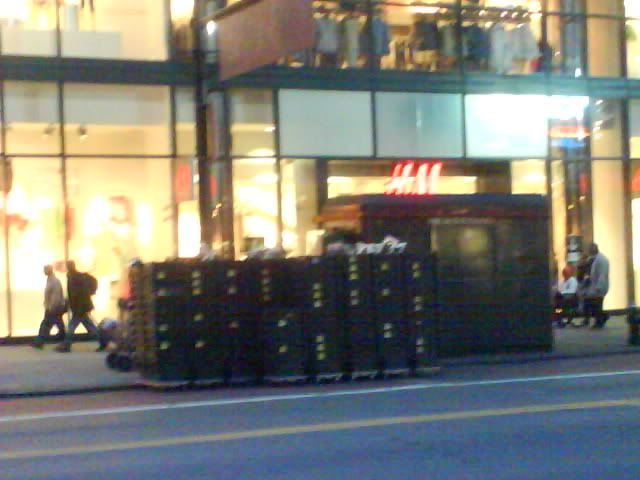 Published Post Number:129/135
Feel free to comment below!
Edited 5/11/09