Part 4 of Week-long Series on Mass Transit in NYC
Let's take a train ride on the New York City Subway, shall we? Let's say that you're taking the F from Delancey St and want to go to 42St/Grand Central. So you take the Queens-bound F all the way to 42St/Bryant Park, or transfer for an express B or D train at Broadway/Lafayette St. Then, another transfer to the Flushing-bound 7 train one stop. According to the MTA's Trip Planner, that will most likely take you
30 mins to travel 2.4 miles
during rush hour.
In the future, a new interchange point between the B, D, F, and V lines and the uptown 6 train may help cut that time to
26 minutes
(and a lot less walking at the long tunnel between the 7 and F at Bryant Park). Currently, riders can only transfer between these two systems to/from the downtown 6 platform at Bleecker St, since the uptown platform is staggered "above" the downtown one. (Note: many IRT platforms in downtown Manhattan, most notably on the 6 train, are not connected.)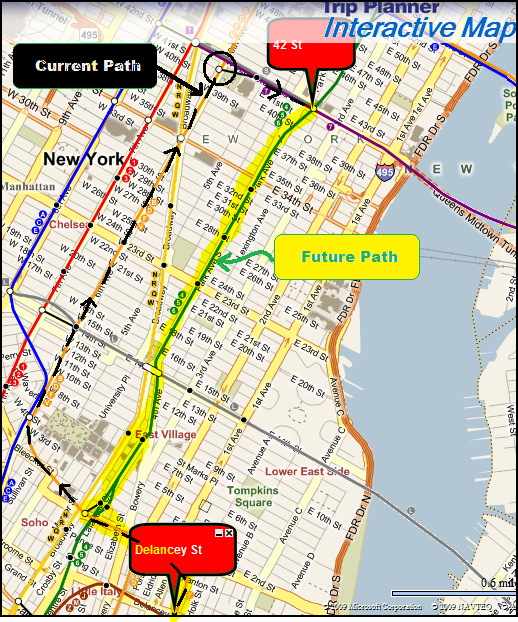 Currently under construction is a new transfer area, escalators, and elevators to connect the uptown 6 platform to the rest of the complex. This is done by extending the uptown platform South and by excavating and by building an entirely new concourse below it. Expected completion date: 2011. The design is by architecture firm Lee Harris Pomeroy Architects, and it looks marvelous. (Of course, any new station or major rehabilitation is great compared to the state of most stations now.) It also has a signature "hive-like" LED artwork that will make passersby look up from their Blackberrys and iPhones for a minute-just hope they won't trip. Take a look for yourself:
>>>Lee Harris Pomeroy: Bleecker Station Expansion and Restoration
>>>Curbed: Soho, Noho Join Forces for Subway Super Station!
(Taken using
MTA's Interactive Trip Planner
, with Delancey St as start point, specifying F, and Grand Central as End point for a weekday 8:25 am departure.)
Published Post Number:151/157
Comment below! - and leave an ID/email to get replies